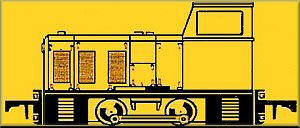 Big Big Trains
Big Big Trains was manufactured by ROVEX in the UK and introduced in 1966 under the Tri-ang label. It was an "O" gauge system. Although the Tri-ang/ROVEX name appeared on the end flap of the distinctive yellow boxes the manufacturer and brand was not obvious.
The Legend

appeared on the boxes, with a line drawing of the contents placed above it. This was later dropped in favour of the

logo, with a drawing on the end flap.
The range lasted from 1966 until 1972 when it was discontinued. There was a revival in 1975 under the brand name "Novo". These models were produced in the USSR using the original tools and distributed in the UK by Novo Toys Ltd. These lasted until about 1980.
© D L McCarthy 2015